Latest Jdorama
2009年 04月 26日
Thanks to Sanae San!
Here's another Link that has an easier access to view Jdorama online and has an introduction to all the Jdorama.

http://www.video4asian.com/japanese-drama



2009 Spring Jdorama





Mr. Brain 布朗先生


Cast: 木村拓哉 Kimura Takuya 綾瀬はるか Ayase Haruka 水島寬 Mizushima Hiro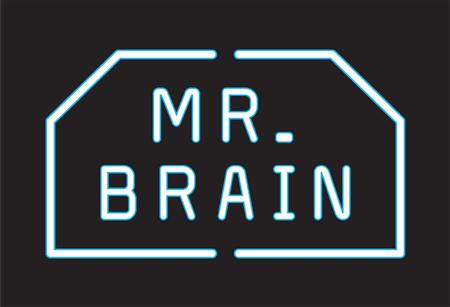 光是Cast 就很期待了 綾瀨遙是看了"魚竿女又怎樣"和"我的機器人女友"之後欣賞她的演技 此片還有水島寬
Pretty sure this will be the best drama of this season with it's casting. Kimura Takuya is considered as the top celebrity in Japan, also a member of Smap Take the lead in lots of popular drama such as Hero, Good Luck, Pride, Engine, and Change. Ayase Haruka is also a very talented actress I liked her after watching Hotaru no Hikari and Cyborg Girl.

木村將飾演一個靠科學理論解決複雜案件的刑警 應該是類似福山雅治的"神探伽利略"
Kimura Takuya will be playing as Tsukumo Ryusuke is neuroscientist working for the National Research Institute of Police Science (part of the National Police Agency). He is generally incapable of reading the atmosphere of a situation, but when it comes to science, he is well respected. Whenever something catches his interest, he thoroughly sticks to it and never gives up, chasing down the criminals with certainty.



スマイル Smile


Cast: 松本潤 Matsumoto Jun 新垣結衣 Aragaki Yui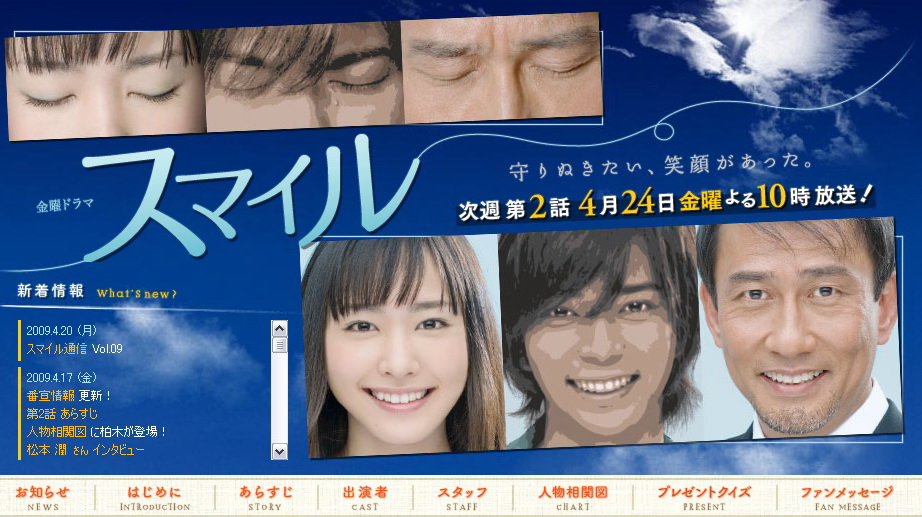 光是看到松本潤要演菲律賓混血 就覺得很好笑 一定要看看
Matsumoto Jun became popular from Gokusen and played as Domyoji Tsukasa in Hana Yori Dango(Japanese Meteor Garden) I am looking forward to see him acting a role of a Fil-Jap mixed blood, should be a very funny yet touching story.

松本潤飾演的是父親是菲律賓人母親是日本人的混血青年彼得。面對父親去世母親去向不明的不幸的境遇也不低頭,儘管煩惱於人種和身世,也經常會露出笑容,積極地生活著。
Matsumoto Jun Played as Hayakawa Bito has a Filipino father and a Japanese mother, but he was born and raised in Japan and has never visited the Philippines. The ever-smiling Bito works at Machimura Foods during the day, and at night, he works a part-time job trying to make his dreams come true. One day during an incident at a bookstore, he meets a girl named Mishima Hana, who lost her ability to speak due to an accident. But even though she can't speak, Bito is drawn to her beautiful smile. However, Bito becomes wrongly suspected by the police for a crime, and after meeting the lawyer Kazuma, the issue begins to grow... Together, Bito, Hana, and Kazuma will go through challenging times and have to overcome many obstacles.



結婚萬歲 (想婚了) 婚カツ!Konkatsu! Marriage Hunting


Cast: 中居正広 Nakai Masahiro 上戸彩 Ueto Aya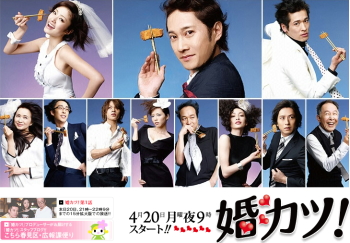 中居正廣的演技也是無庸置疑 好久沒演戲的他幾乎都是主持節目 今年過年的紅白歌唱大賽也是她和仲間由紀惠主持的 最後一次看他主演的的日劇好像是砂之器和白影 都是悲劇 所以很期待這部應該和Love Shuffle 很像的愛情喜劇吧
Nakai Masahiro is one of the best actor that I like He is the leader of SMAP with Kimura Takuya Very popular in hosting, acting, dancing and singing. It's been a long time since he played a role in drama. I am anticipating that this will be a love comedy like Love Shuffle

中居正廣主演一婚活男(徵婚男) 女主角是上戶彩 將介紹理想伴侶作為一門生意的婚介公司急速發展的今天「結婚活動」這一詞組也已簡稱為「婚活」劇裡 一直專注於事業三十過半的男人突然有了結婚意識 而此時也正是事業的關鍵時刻 劇中描述一個事業快要蒸蒸日上卻在公私之間徘徊的男人的喜劇故事
Amamiya Kuniyuki is the unemployed son of a tonkatsu restaurant owner. He finds a job that requires a married person, so he lies by saying that he has plans to marry, and he is forced to keep up the charade using Hida Haruno, a part-time worker from the restaurant. The relationship between the two is the key of this romantic comedy, though the series also focuses on family and friendship through Nakai's interactions with the other characters.



Boss


Cast: 天海祐希 Amami Yuki 竹野内豊 Takenouchi Yutaka 戸田恵梨香 Toda Erika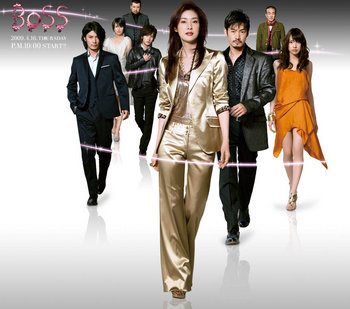 看了"女王的教室" 和"當家女主播" 就還蠻喜歡天海祐希 她很適合演女強人 大姐頭的樣子
戸田恵梨香是看了"流星之絆"後覺得她演技還不錯

天海祐希將在主演一名刑警大澤繪里子 以警視廳搜查一課特別犯罪對策室室長的名義管理著後進的團隊 即身負「BOSS」之職 同時劇中還有與她同期的職業警官竹野內豐 老是出錯的部下戶田恵梨香
This series revolves around a group of peculiar detectives in a new division created to fight against an increase in atrocious crimes. Osawa Eriko is a beautiful career woman who has just returned from training in the U.S. and is appointed as the "boss" of this division. But despite her intelligence and capabilities, she can never understand a man's heart, so she remains unable to find a husband. In fact, her assignment in the U.S. was really a demotion after she ruined her career track over a man. So why was she chosen as the boss of the new division? Even though the detectives are talented, they all have some kind of issue or flaw, and they are considered to be the "problem children" of the police force. In the end, the division's true purpose is just to isolate these problematic detectives.



名偵探的守則 名探偵の掟 Meitantei no Okite


Cast: 松田翔太 Matsuda Shota 香椎由宇 Kashii Yu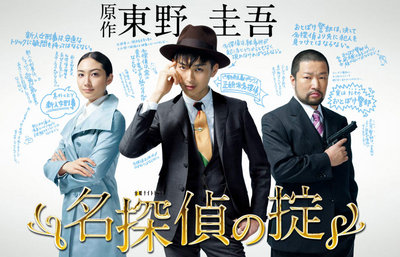 本來看了花樣男子也沒什麼注意到演西門的松田翔太 可最近看的日劇幾乎都有他 薔薇的花店 還有好喜歡他在Love Shuffle 裡的角色呢還 他也曾多次獲得電影新人獎 算是實力派演員
Didn't pay much attention when Matsuda Shota role played as Nishikado Sojiro Hana Yori Dango, but he appeared on lots of drama that I was watching recently like Bara no nai Hanaya (The Flower Shop Without Roses) and I really liked his character in Love Shuffle, which made me wanted to see this drama.

自稱「頭腦聰明 英俊瀟灑 神出鬼沒的名偵探」=天下一大五郎完美的 解決了密室殺人 偽造不在場證明案 死亡留言案等等疑難推理案件 與此同時 徹底揭開它們背後各種各樣的 規則
飾演主人公天下一的松田翔太首次 擔當連續劇主演。,作為青年實力派演員地位不斷得到 鞏固的他,這次將挑戰偵探一角色。另外,扮演女主角的香椎由宇飾演新人刑 警,還有木村祐一飾演的呆呆警部來對 男主角進行陪襯。可以說是卡司強大。 這部被認為不可能銀幕化的推理名作,即將揭開它神秘的面紗。
The original writing is a short mystery collection that takes a humorous approach to many of the genre's cliches. Matsuda stars as the "famous detective" Tenkaichi Daigoro, while Kashii Yu plays the female lead as a rookie cop.



帥哥面屋偵探 イケ麺そば屋探偵 Ikemen Sobaya Tantei


Cast: 藤木直人 Fujiki Naohito 堀内敬子(堀内敬子) Horiuchi Keiko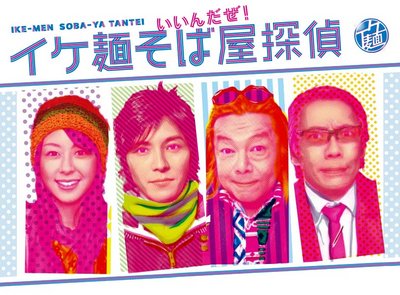 不管劇情是什麼 就是想看 Why? 当たり前ですよ!藤木さん 大好き!
Don't ask me why I wanna watch this, I don't care about what it's all about...
Just because it's Fujiki Naohito my favorite...^o^ ♪♪♪

堀内敬子飾演潤太郎(藤木直人)的姐姐 帥哥面屋的老闆 因為很擔心潤太郎於是從家鄉來到了東京 説話帶著濃厚的家鄉方言口音 除了潤太郎沒人聽得懂她説什麼 潤太郎有看穿別人謊言的能力 對一件傳聞的事情總是被拜託去像偵探那樣的查證 並且這種委託絡繹不絶 弱點是女人的眼淚 愛好是彈吉他、唱歌 很受女性歡迎對愛情卻相當冷淡
Worried about her younger brother Juntaro's future, Itako visits the soba restaurant that Juntaro runs. The store is known as the "Ikemen Sobaya," due to the good looks of Juntaro and the part-time delivery boys. Itako discovers that Juntaro does more than just work at the shop - he also happens to work as a detective who solves a lot of incidents around the neighborhood. Juntaro is also surrounded by a cast of strange characters, such as the gay president of a local talent agency and a detective who is constantly at odds with Juntaro.



夜光的階梯 夜光の階段 Yako no Kaidan


Cast: 藤木直人 Fujiki Naohito 木村佳乃 Kimura Yoshino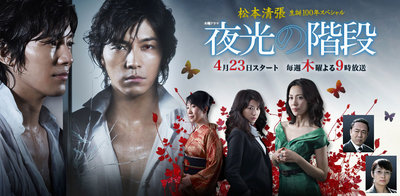 還是因為藤木さん 要看嗎? 勿論です~ 木村佳乃演過流轉的王妃和台灣歌姬鄧麗君也是實力派演員
Fujiki Naohito Again~ ♥

本劇改編自日本推理小説巨人松本清張的同名小説 圍繞一名普通美容師一躍成為美容界寵兒的青年展開故事,這個青年充滿了野心和慾望 本故事的舞台就是美容界 追求美的女性們 被那個充滿了才氣的青年美容師所吸引 被他用神奇的才能和手法讓自己變得更美 故事忠實地敘述出這樣一個充滿野心的青年美容師的故事 這裏有女人們渴望的獨占欲 也有男人們能得到滿足的富貴榮華和名聲 所有人都被吸引 想要爬上那高高的台階 為了實現自己的野心不折手段的青年美容師佐山道夫
Sayama Michio is a young and callous beautician who will stop at nothing to fulfill his ambition(s). Coming from an impoverished background, he suddenly becomes the darling of the beauty world. He holds women who desire beauty captive and puts on several different faces when dealing with Murase Minako, the female owner of the place that he works at; Hatano Masako, a woman of leisure; and Fukuchi Fujiko, an editor of a weekly magazine to come out tops. He also gets involved with two detectives who are investigating him for a prior incident.